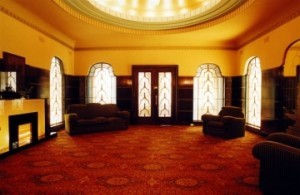 Elizabeth Bay
Named after Governor Macquarie's wife, Elizabeth, this harbourside suburb is home to one of Australia's most beautiful historic buildings, Elizabeth Bay House. Built in the mid 1830s, the building was initially surrounded by extensive gardens. The land was later subdivided and the build-up of apartments and terrace homes that gradually followed leave little reminder of how the suburb looked all those years ago. During the Art Deco period, some stunning apartment buildings were constructed including Birtley Towers, Mendon and Caversham Court. While these historic gems will always remain part of the character of the suburb, in recent years, a new dimension has been added with buildings such as The Encore and The Manhattan, both built where hotels once stood. As one of our country's most densely populated suburbs, Elizabeth Bay boasts a wide range of residents including the rich and famous. Both local parks, Beare and Rushcutters Bay hug the harbour, while other local spots to unwind include the Rushcutters Bay Tennis Centre and a variety of delightful coffee shops. Public transportation includes a good bus service and trains from nearby Kings Cross.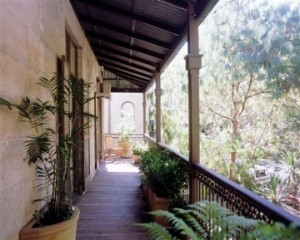 Potts Point
This charming suburb may remind some of Paris — the beautiful tree-lined streets, the smart restaurants, the trendy coffee shops where patrons sip café lattes alfresco, the upmarket designer stores and the swank new apartment buildings. The suburb has also managed to retain many beautiful historic buildings including a number of gracious Victorian terraces, the impressive neogothic building, Franconia and some fine Art Deco buildings including the Macleay Regis and the Minerva Theatre. In recent years two hotels in Macleay Street have been replaced by the upmarket apartment buildings, The Ikon and The Pomeroy, bringing a welcome influx of residents and a smart new look to the suburb. The suburb is also home to St Vincents Girls High School, while the Garden Island Naval Base is at the end of Wylde Street. The suburb is well served by public transport including a good bus service and Kings Cross railway station just around the corner.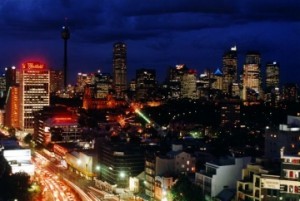 Kings Cross
Located on a ridge between Woolloomooloo and Rushcutters Bay, Kings Cross was home to a number of windmills in the early days of settlement before it became a residential area. By the 1920s, Kings Cross had developed its colourful character, attracting those who enjoyed a bohemian lifestyle. It was a haven for artists and writers, a haunt for those who liked the nightlife. By the late 1960s it was the popular destination for US servicemen on rest and recreation leave from the Vietnam war. Many made use of the strip joints and massage palours that became an infamous feature of "The Cross" as it is affectionately known. In recent times some of the seedy strip clubs have gone while new upmarket businesses have emerged such as "The Burbon" which replaces the classic bar, The Burbon and Beefsteak. Kings Cross Rail station and a good bus service link this lively suburb to the rest of Sydney.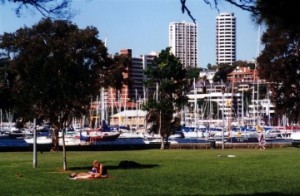 Rushcutters Bay
Nestled on the harbour and named after the tall rushes which once grew there, Rushcutters Bay is today the home of the Cruising Yacht Club where the famous Sydney to Hobart yacht race begins every Boxing Day. The suburb also played host to the 2000 Olympic Games sailing events. Boasting beautiful Rushcutters Bay Park with its graceful sports oval, tennis courts and million dollar harbour views, the suburb is the perfect location for those who like getting about in boats. But for those who don't, there is good public transportation on offer including buses and Kings Cross railway station just a short stroll away.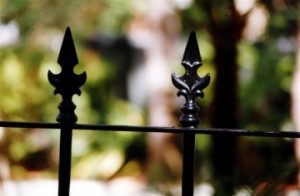 Surry Hills
Tucked away east of Central Station, it's hard to believe in the early days of settlement, this inner-city suburb once featured farmlands and impressive buildings. By about 1850, however, its character was changing and becoming more working class with the construction of terrace houses and workers' cottages. These new residents were drawn to jobs in a number of light industries — particularly clothing – which had sprung up in the suburb. After World War II, cheap accommodation attracted many migrants and today, the suburb still retains some of its ethnic history and reputation as a fashion outlet. In recent times, however, it has become quite trendy. New residents are restoring homes and several old warehouses have been converted into fashionable apartment buildings or commercial space for trendy shops. There is a good variety of restaurants and several pubs, while public transportation is excellent with Central Station close by and plenty of buses.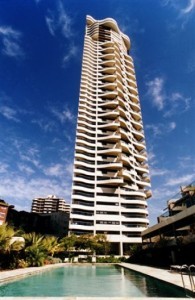 Darlinghurst
Situated around the central focal point of Taylor Square, Darlinghurst was popular in the early 1800s with the upper middle class who lived in grand homes. It began to fall out of favour with the construction of Darlinghurst Goal in 1841 which is now the site of East Sydney Technical College. By 1900, it had become a working class suburb with a reputation for attracting criminals, prostitutes and colourful characters. Darlinghurst began the slow climb back to respectability after artists and bohemians began to move in. Today, the suburb is smart and lively with a relaxed and open atmosphere. While most of the grand buildings and homes of Darlinghurst's early days are gone, there are still many Victorian terraces while the courthouse at Taylor Square is still in use. Other buildings of note include St Vincent's Hospital while some modern apartment buildings such as Harry Seilder's Horizon have added a funky new feel to the suburb's architecture. Darlinghurst's popular café strip along Victoria Street draws a big crowd, as does the restaurants and clubs along Oxford and the surrounding streets. Taylor Square, the heart of Darlinghurst, benefited greatly by the opening of the Eastern Distributor road system which drew traffic underground and eased congestion enormously.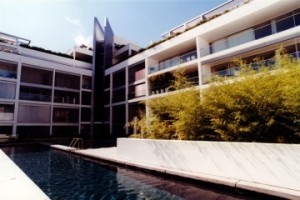 East Sydney
This little pocket west of Darlinghurst is bordered by Bourke, William, College and Burton streets and was once the site of market gardens and dairies in early colonial days. Its character began to change, however, after light industries moved in and terrace houses were built to house workers. Larger buildings were also constructed including Australia's first museum, The Australian Museum (1849) and Sydney Grammar School (1857) for boys. Of course these buildings are still in use today and while many terrace houses and industrial buildings still stand, the homes are increasingly being renovated and the buildings transformed to house trendy apartments or offices. Many new structures have been built as well including the Cook and Phillip pool and apartment buildings such as Republic 1 and 2 and Lumina. The area is a popular night spot, especially around Stanley Street which is known as "Little Italy". The area has benefited greatly from the Eastern Distributor changes which saw a huge reduction in traffic flow.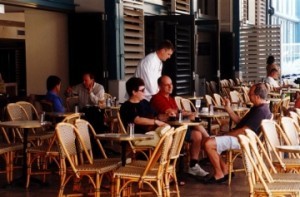 Woolloomooloo
Once a working class suburb focused on maritime industries, Woolloomooloo has undergone a dramatic transformation from its early days. Now popular with the trendy and rich, there are still some reminders of days gone by including some of the stairways of Woolloomooloo, the Finger Wharf and the classic pie cart Harry Café de Wheels which served many US servicemen in World War II. While other historic features of the area — such as the navy base at Garden Island and the council flats and houses — are still part of the character of this diverse suburb, in recent years it has become gentrified with the restoration of the Finger Wharf playing a huge part in the suburb's upmarket shift. The wharf features the classy W Hotel, popular coffee shops and restaurants and multi-million dollar waterfront apartments boasting rich and famous residents. For those who enjoy walking, the city is just a short stroll away from Woolloomooloo, while other features such as the NSW art gallery and Boy Charlton pool are even closer. Also nearby is the Royal Botanical Gardens, the Conservatorium of Music and the one of Australia's most famous landmarks, The Sydney Opera House.